Planning & ROI Prediction | Example Analysis
---
<! ---- 4. Embedded iframes with title and author --> <! -- ChannelMix Monitor Blue Paper --> <! -- GA4 User Guide --> <! -- Keys User Guide --> <! -- Implementation Guide --> <! --Pacing Summary User Guide -->
What business question am I trying to answer?
I've had the same budget for the last three years, but I can't seem to grow my number of website leads. How can I more optimally spend my budget so that I can generate more leads over the next sixth months?
What metrics from this product help me answer that question?
I need to use cost and website leads fields for my analysis.
What visuals from the dashboard tell this story?
First, I set my planning window for "Next Six Months." Note that the Baseline Window defaults to "Previous Period," which is going to automatically change to the previous six months to match my planning window.

Observation #1
In the previous 6 months, I spent approximately $837k on my campaigns. That budget generated approximately 20,200 website leads. I want to try to increase that number of leads to 25,000.
Observation #2
Based on my performance the previous six months, if I continue as is, I will need approximately $1 million to get to my goal of 25,000 website leads. Let's see what happens when I run my prediction pressing the blue button.

Observation #3
Below is the cluster map generated from my data on the most optimal way. Note the scatterplot includes orange dots (top predictions), blue dots (great predictions), grey dots (maximize target prediction), and white dots (not a recommended prediction. Learn more about the various prediction types in this article:
Prediction Categories Explained.
The vertical red line indicates my cost from the above goal configuration, and the horizontal red lines indicates my website leads goal.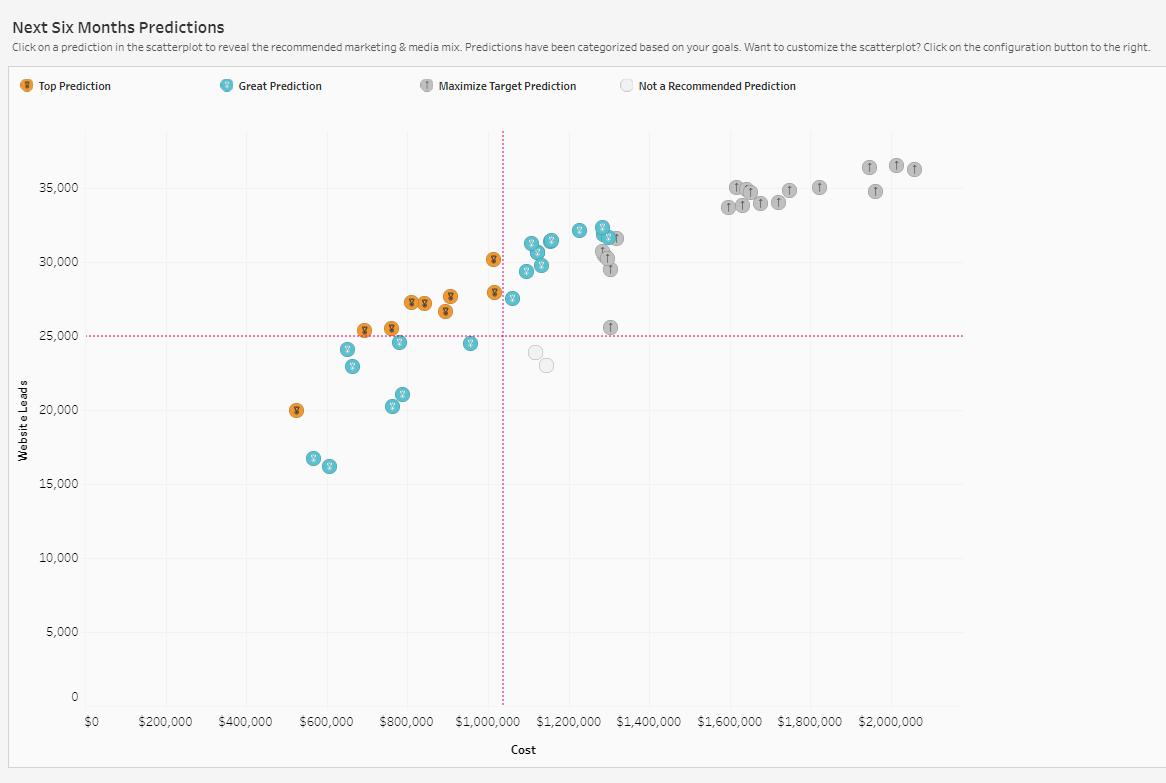 Looking more closely at my top predictions, there are two that stand out that are pretty close to my website leads goal and my original budget.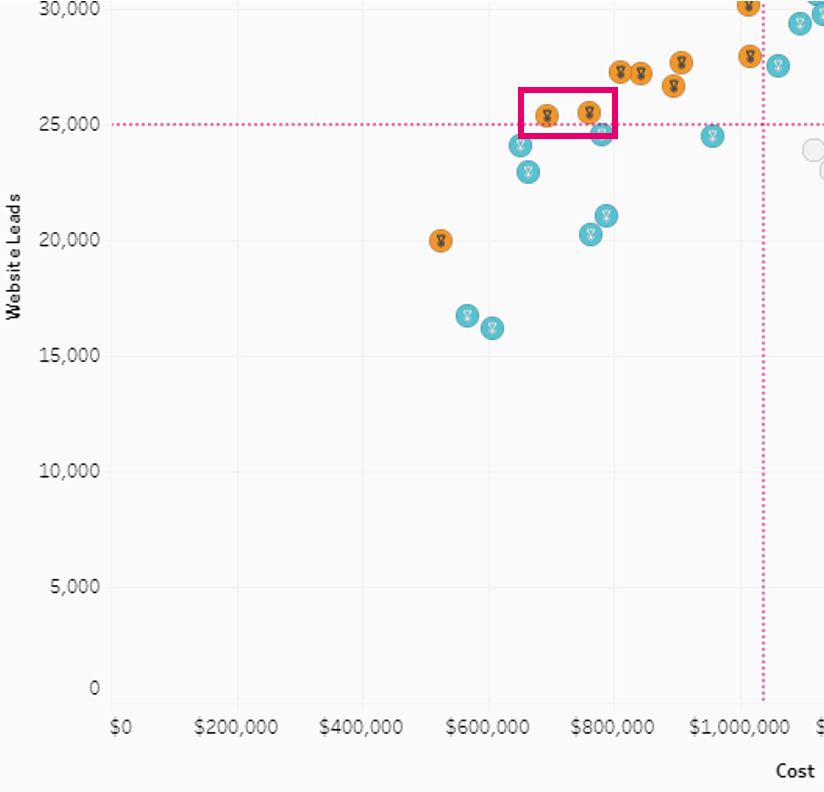 Observation #3
I hover over both of these dots to compare the predictions. Comparing the two, I see that the left option predicts 25,354 leads at approximately $693k and the right option predicts 25,513 leads at approximately $761k. The cost per lead is cheaper in the left prediction, so that is the one I choose. I click it to get more details.
| | |
| --- | --- |
| Left Prediction | Right Prediction |
| | |
Observation #4
Now, I can see the breakdown for the recommended marketing and media mix that will generate my website leads goal. I see that OOH is where the model recommends I spend most of my budget. For this analysis, I will focus on how to divide the allotted $179k for Paid Search by using my Source Level Planning & ROI Prediction. From here, I open my Paid Search Performance Dashboard.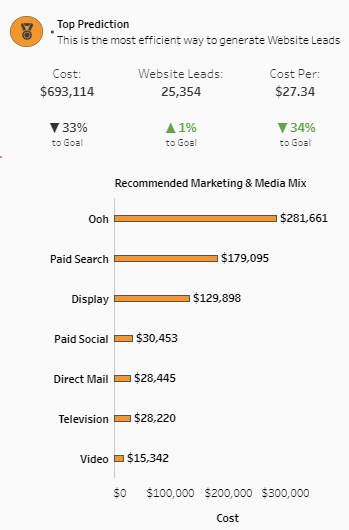 Observation #5
In Paid Search Performance, on the Plan Performance tab, I set my planning window to Next Six Months, and make sure my baseline window is set to previous period. Then I enter the cost from my Pipeline dashboard for Paid Search ($179,095) into the Goal Amount for cost. Then I select the run prediction button.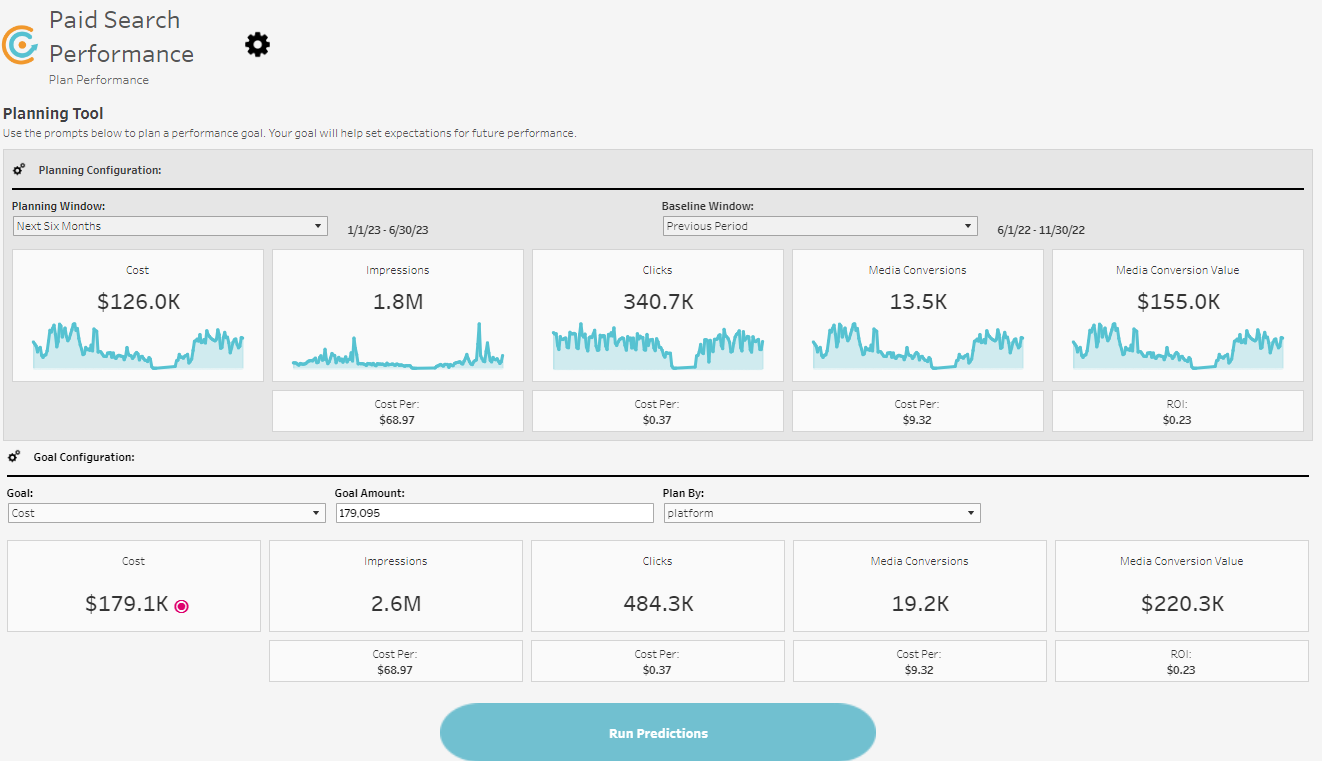 Observation #6
In our source level dashbaord, we are provided with a "best match" that is right on target with our cost goal.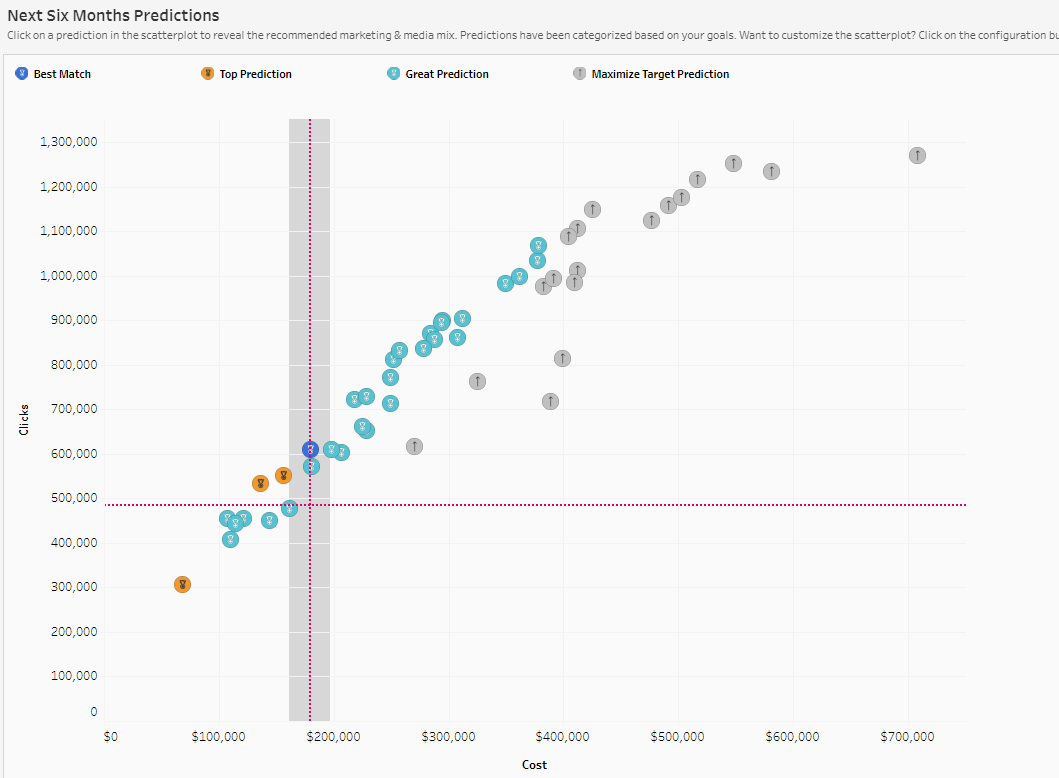 Clicking our best match reveals the recommended marketing and media mix for Paid Search platforms. I should allow most of my Paid Search budget to Google Search.