AI Explained | Why are all my results in one quadrant? Can I do anything to even this out?
---
<! ---- 4. Embedded iframes with title and author --> <! -- ChannelMix Monitor Blue Paper --> <! -- GA4 User Guide --> <! -- Keys User Guide --> <! -- Implementation Guide -->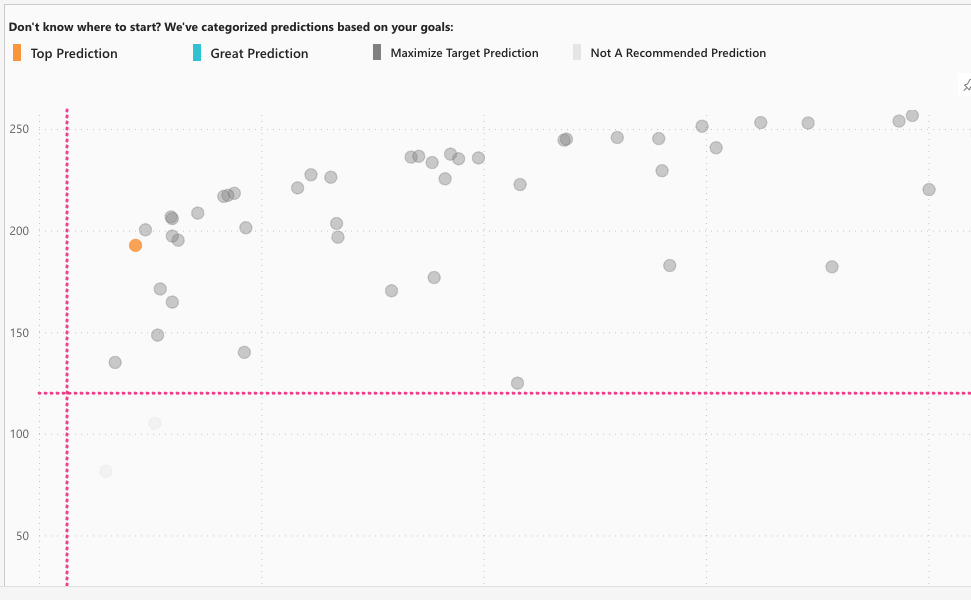 The main thing to understand about the quadrants is that they are intended to be used as a reference and are based purely upon your historical performance. That means they can easily give the impression that your recommendations have been skewed in some direction if you have non-typical behavior during the reference period. Beyond that, no market remains static month-to-month or year-to-year. There's no guarantee that we will be able to match the performance of a different point in time.
ChannelMix AI recommendations are generated by algorithmically exploring the space of potential budgets and attempting to maximize the target while minimizing budget. We keep the budget pinned in by requiring that the spend in each channel remain within the bounds of the historical spend with a buffer. This puts an upper and lower limit on the budgets the model is able to explore.
Taking all of this into consideration, here are a few of the reasons why your recommendations may appear in a single quadrant.
The entered target value is too high or too low.

This could be because you are trying to improve your performance relative to the baseline and the model doesn't believe it's possible to achieve that large an improvement.
This could also occur because you are trying to match the performance of the baseline period, but this baseline period contains uncharacteristic behavior. A situation can occur where the baseline period aligns with a period of drastically increased activity. In this case, the recommendations may fall short of the requested target due to the baseline period being inflated.

Your historical performance has changed drastically. The budget used as a baseline for recommendations is based on your average cost per over the history of your data. If your cost per has changed drastically over the lifetime of your data, the baseline budget could be artificially inflated or deflated. This can lead to the misconception that you can not match your historical performance. This can also lead to a situation where the baseline budget falls outside of the constraints we put on the total budget.