Marketing to Sales Pipeline | ECom Overview
---
<! ---- 4. Embedded iframes with title and author --> <! -- ChannelMix Monitor Blue Paper --> <! -- GA4 User Guide --> <! -- Keys User Guide --> <! -- Implementation Guide --> <! --Pacing Summary User Guide -->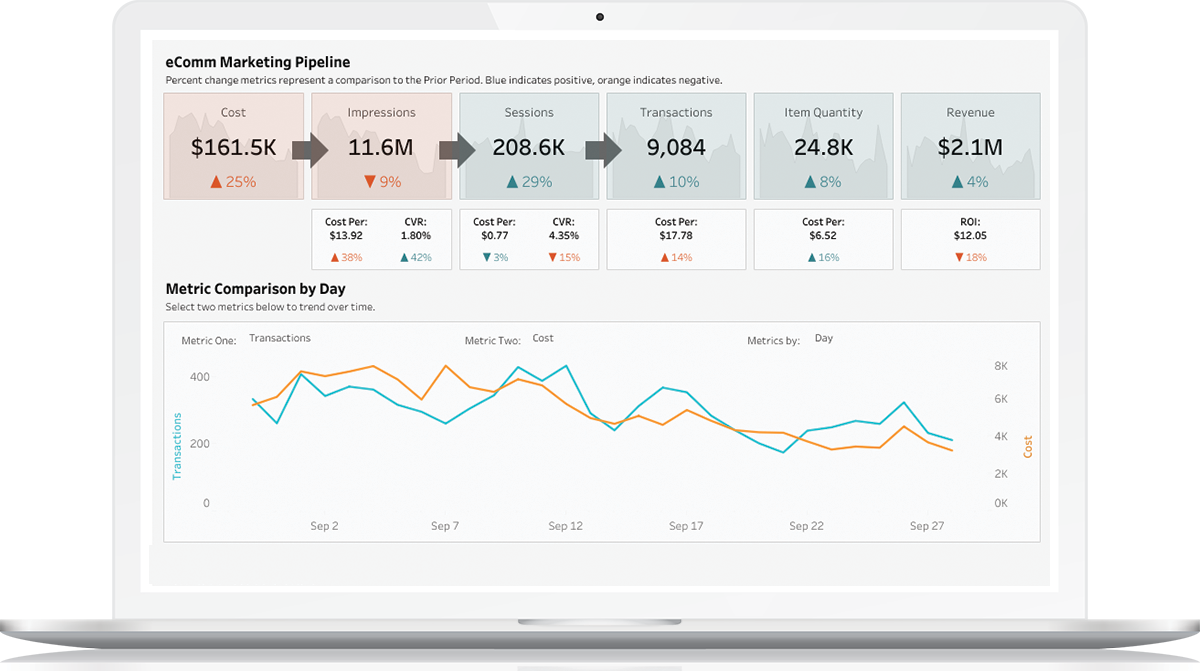 Version 2023.1
Overview
The purpose of this Marketing to Sales Pipeline (Ecom) Dashboard is to help you align marketing and data from your transaction system in one place. This dashboard will not only help you understand how marketing is impacting sales but also offers capabilities to optimize for and predict future marketing performance.
There are up to 5 tabs in this dashboard that are designed to answer the following business questions:
Pipeline Summary
A historical summary of your pipeline performance. Use this tab to understand how marketing is leading to transactions and revenue.
Are my overall number of transactions trending upwards?
What is my return on investment (ROI)?
What is my average order value?
What channel/data source/campaign is contributing the most to transactions? (last click attribution)
** Requires Advance Package Add-On as it requires eCommerce tracking, which can be implemented by the ChannelMix tracking team.
Shopping Behavior Summary **
A summary of the shopping activity that is occurring on your website. This tab uses Google Analytics tracking to understand the tendencies of your visitors when it comes to the shopping experience.
How are customers progressing through the shopping stages?
Is there a stage where customers drop off, preventing them from making a purchase?
What time of day are customers most likely to complete a transaction?
Product Summary **
A detailed view of which products on your website are the most popular. This tab uses Google Analytics tracking to understand your audience's favorite products to view, add to cart, and purchase.
Which product categories are performing the best? Which specific products (SKU) perform well within that category?
Which channels/platforms/campaigns are driving transactions in each product category?
Plan Performance
By referencing historical performance, and setting it as a baseline, use this tab to set budget goals and expectations for upcoming marketing.
How much should I budget to achieve X amount of transactions?
Based on the budget I have, how many transactions can I expect to generate?
How should I spend that budget across my marketing channels?*
What is the most/more efficient way to generate transactions in the future?*
*Please check out our Plan Performance - Dashboard Tab Overview article for a more in-depth explanation of this dashboard tab.
Model Performance
A summary of the ChannelMix Modeling Engine that is informing the predictions and recommendations is found in the Plan Performance tab.
How well is my prediction model performing? How accurate have the predictions been?
Which strategy (i.e, channel) has the greatest marginal return on ad spend?
When does my strategy (i.e, channel) start to diminish returns on transactions?
Please check out our Model Summary - Dashboard Tab Overview article for a more in-depth explanation of this dashboard tab.
Data
Below is an illustration of how the different data points make up the pipeline summary.

Supported Data Sources
The standard configuration for this dashboard includes the following data sources:
Act-On
Apple Search Ads
Bing Ads
Campaign Monitor
Constant Contact
Digital Media via Google Sheet
El Toro
Emfluence
Exact Target
Facebook Ads / Social
Google Ads
Google Analytics
Google Analytics 4
Google Campaign Manager
Google Search Ads 360
Google Search Console

Hubspot
IBM Watson
Instagram Social
LinkedIn Ads / Social
Mailchimp
MNTN (formerly known as SteelHouse)
ON24
Pardot
Pinterest Ads
Reddit Ads
Snapchat Ads
TikTok Ads
Traditional Media via Google Sheet
Twitter Ads / Social
Yahoo Gemini
YouTube Analytics
Dashboard Datasets
This dashboard is built on the following datasets:
Supported BI Tools
The eCommerce Marketing to Sales Pipeline Dashboard is available in Tableau and PowerBI.
FAQs
Unsure what a term means in the Plan Performance or Model Summary tabs of the dashboard? Check out our Glossary of Terms article, as well as our Plan Performance and Model Summary Dashboard Tab Overview articles which contain it's own FAQ sections!
Below are commonly asked questions about the Marketing to Sales Pipeline (Ecom) Dashboard:
Why doesn't the Product Revenue in the Product Summary tab match the Revenue in my Pipeline Performance tab? Is my dashboard broken?

Nope! It isn't always the case that these two metrics will match up. Product Revenue will be the revenue received from individual product sales, while Revenue would be the total revenue from an overall transaction, which can include values for tax, shipping, and discounts.
Previous Versions