Paid Social Performance | Example Analysis
---
<! ---- 4. Embedded iframes with title and author --> <! -- ChannelMix Monitor Blue Paper --> <! -- GA4 User Guide --> <! -- Keys User Guide --> <! -- Implementation Guide -->
What business question am I trying to answer?
My social media budget was cut by 16% recently. I want to ensure I'm still driving as much awareness as possible across all my platforms and stretching my marketing dollars to be as effective as possible.
What metrics from this product help you answer that question?
I need to use platform, impressions, engagement, and campaign fields for my analysis.
What visuals from the dashboard tell this story?
First I set my filters to both the campaigns and time frame I want to analyze:

Observation #1:
At the top of the dashboard, I can see my KPI Performance indicators and see my budget decrease is reflected in the cost. I can also see that both my impressions and engagements have taken a substantial hit by the decrease in budget. Both are larger than the 16% decrease. I need to look further to see what platforms are decreasing the most and decide my next steps.

Observation #2:
Next I will look at how these breakdown over social media platforms. I spent the least amount on TikTok, but the impressions and engagements are really high. I want to look closer at my cost per engagement for that platform for sure. I spent the most on LinkedIn, and while impressions are a little lower, Engagements for LinkedIn are fairly high.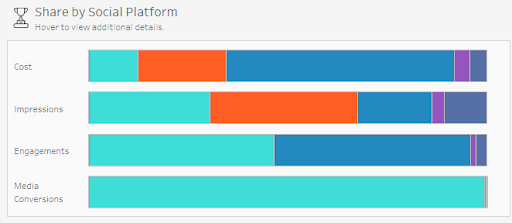 Observation #3:
As I continue to dive deeper, in the data table, if I look at the data by social platform, I can start to see what these engagements are costing me with my cost per engagement metric. Engagements are only costing my 30 cents on TikTok, but they are costing me $1.31 on LinkedIn. Based on this data, I can probably stretch my money a little further if I move it to TikTok, but let's take a closer look at the campaigns I'm running on the platform tabs.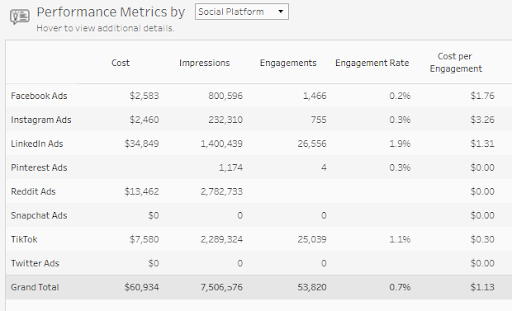 Observation #4:
Campaign 1 is running on both platforms. We've spent more on campaign 1 in LinkedIn with less successful results. Based on these results, we should reallocate some form the budget from Campaign 1 from LinkedIn to TikTok.
LinkedIn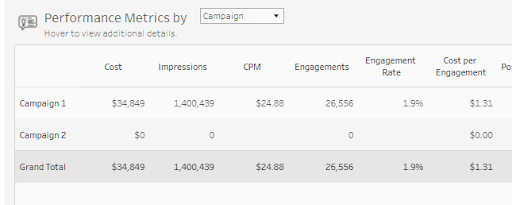 TikTok

Recommendation
Reallocate some of Campaign 1 budget from LinkedIn to TikTok to decrease the cost per engagement associated with Campaign 1.

Take advantage of the AI capabilities of this dashboard to see what the model predicts for the most optimal way to spend your budget based on engagements by platform.