Social Summary Performance | Example Analysis
---
<! ---- 4. Embedded iframes with title and author --> <! -- ChannelMix Monitor Blue Paper --> <! -- GA4 User Guide --> <! -- Keys User Guide --> <! -- Implementation Guide -->
What business question are you trying to answer?
I am trying to determine which social media platform is performing the best in regards to building awareness of my brand. I want to ensure that my social media team is putting their time and budget to best use.
What metrics from this product help you answer that question?
I need to use platform, traffic type, cost, impressions, engagement, and post performance fields for my analysis.
What visuals from the dashboard tell this story?
Observation #1
Using the KPI donut charts located at the top of the dashboard, I am able to see that while Facebook generated the third most impressions (~19%), it produced the most engagements (~47%). This tells me that a Facebook impression is the most likely to produce user engagement.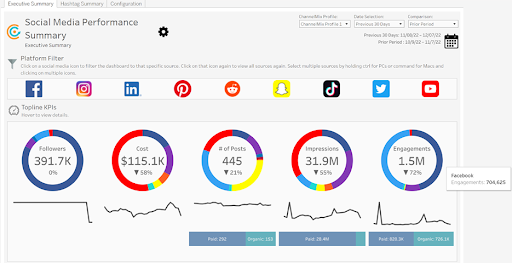 Observation #2
By selecting the Facebook icon at the top of the dashboard I am able to filter down to only Facebook metrics. This allows me to see that 97% of both impressions and engagements generated by Facebook were due to my team's paid efforts.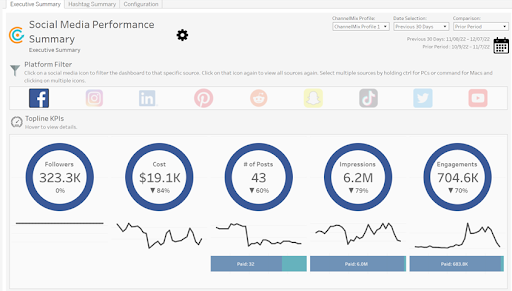 Observation #3
By selecting "Paid" under the Traffic Type filter and sorting the results by Engagement Rate, I am able to determine which paid Facebook content is producing the highest percentage of engagements per impressions. This allows me to determine what paid content is the most effective, further allowing me to optimize my paid Facebook efforts.
In this screenshot, you can see that content 408 (which is a Facebook paid post) had a really high engagement rate at 46.4%. Likewise, Content 409, Content 412, and Content 411 also had relatively high engagement rates.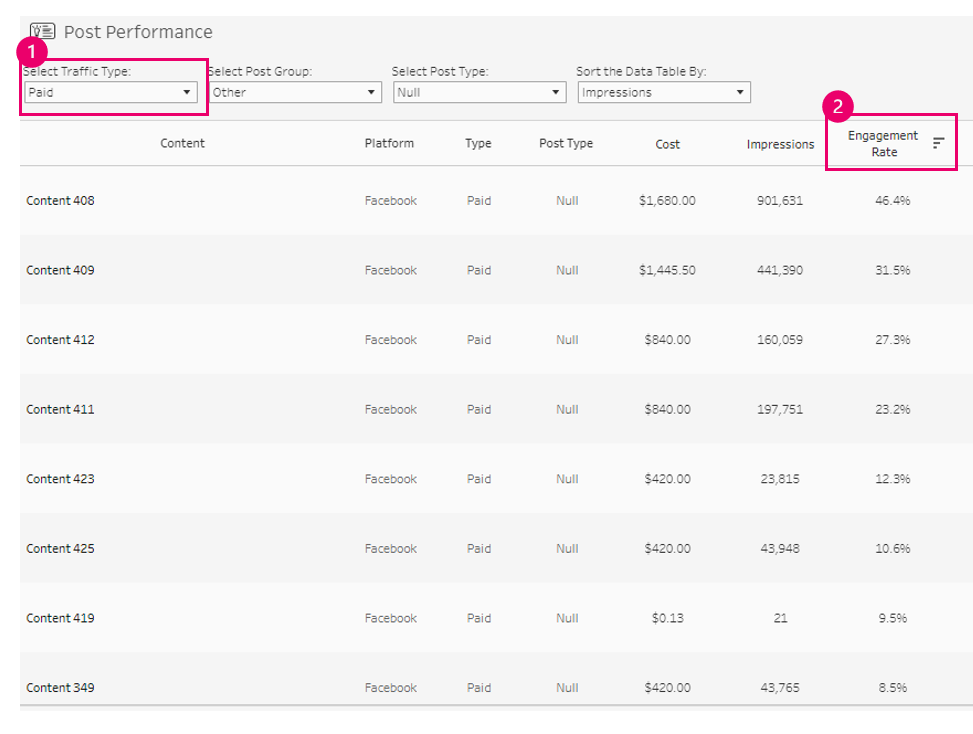 Recommendation
Use the Paid Social Performance dashboard to determine the cost per engagement for these posts. If it is a reasonable amount, produce more content similar to these posts.
Continue to explore Facebook Organic through this dashboard to determine what type of organic content is driving user engagement.
Continue the analysis using the Paid Social Performance Plan and Predict tab to find the most optimal way to increase engagements.