Paid Search Performance | Example Analysis
---
<! ---- 4. Embedded iframes with title and author --> <! -- ChannelMix Monitor Blue Paper --> <! -- GA4 User Guide --> <! -- Keys User Guide --> <! -- Implementation Guide --> <! --Pacing Summary User Guide -->
What business question am I trying to answer?
I have been asked to produce more media conversions with my paid search ads but with the same budget. I need to evaluate which of my campaigns are successfully providing conversions at a low cost and which are not so I can reallocate some of my budget.
What metrics from this product help you answer that question?
I need to use campaign, cost, clicks, cost per click, media conversions, and media conversion rate.
What visuals from the dashboard tell this story?
First I will evaluate my KPIs to see overall how I am doing.
Observation #1
I have spent around $30.4k for ~2,000 conversions overall. Across all my campaigns, I'm average $0.41 per click with a conversion rate of 2.7%. But let's see if we can see which campaigns are performing better than others.
Observation #2
Next, I will get an overall view of campaign performance with my Performance Metrics bar graphs. I turn my data labels on at the top right of the visual to get a quick glance of anything that stands out.
I see that Campaign 4 cost the most, but it isn't providing the highest return on clicks or media conversions.
Campaign 2 has a quite large share of the total clicks, and is my second highest for media conversions. Furthermore, Campaign 2 isn't in the top campaigns by cost, so I definitely want to take a closer look to see what the cost per click and conversion rate are for Campaign 2.
Lastly, Campaign 21 has the highest conversion rate, so I want to look at it more closely as well.

Observation #3
I click each of these three campaigns to get a more detailed analysis.
Campaign 4 has a cost per click of $4.33, which is fairly high, but it has a click-through rate of 5.7%, which is higher than my average. But that $4.33 seems so much higher compared to my average of $0.41. Let's keep going with my other two campaigns.

I click Campaign 4 to unselect it and select Campaign 2.
Now I see a cost per click of $0.04, much lower than Campaign 4. And I also see a click through rate of 43.4%, definitely way higher than Campaign 4.
Lastly, I unselect Campaign 2 and select Campaign 21.
Here I see a cost per click of $3.22, which is much higher than Campaign 2, and a click through rate of only 2.2%.

Observation #4
Now I have some critical analysis to do. It seems like I might want to drop Campaign 21 with that high cost per click, but let me take a closer look at my conversion rate. For Campaign 21, 99% of the individuals who click this ad convert, so it's definitely a campaign I want to remain invested in. For comparison, Campaign 2 has a conversion rate of 0.7%; so while the cost per click is cheap, the conversion rate is incredibly low.
Observation #5
Finally, I'm going to zoom back out and look at all of my campaigns together in the data table.
If I look at my conversion rates, Campaign 21 and Campaign 4 actually have the highest conversation rates by far. Campaign 8 also appears to be doing well at 6.7% conversion rate.
Returning back to campaign 2, the conversion rate is lower, but it has also provided me with the second highest number of conversions at 451.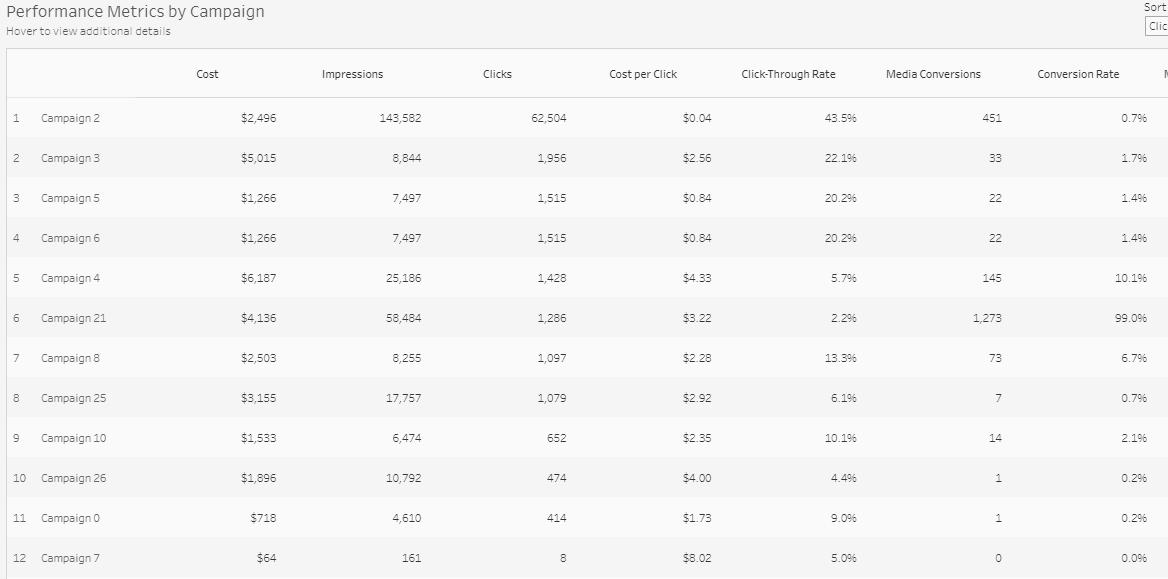 Recommendation
Reallocate some of the budget from lower performing campaigns (such as campaign 7 with 0 conversions at a cost of $8.03 per click and campaign 26 with 1 conversion at $4.00 per click) to Campaigns 2, 4, and 21.