Website Performance | Overview
---
<! ---- 4. Embedded iframes with title and author --> <! -- ChannelMix Monitor Blue Paper --> <! -- GA4 User Guide --> <! -- Keys User Guide --> <! -- Implementation Guide -->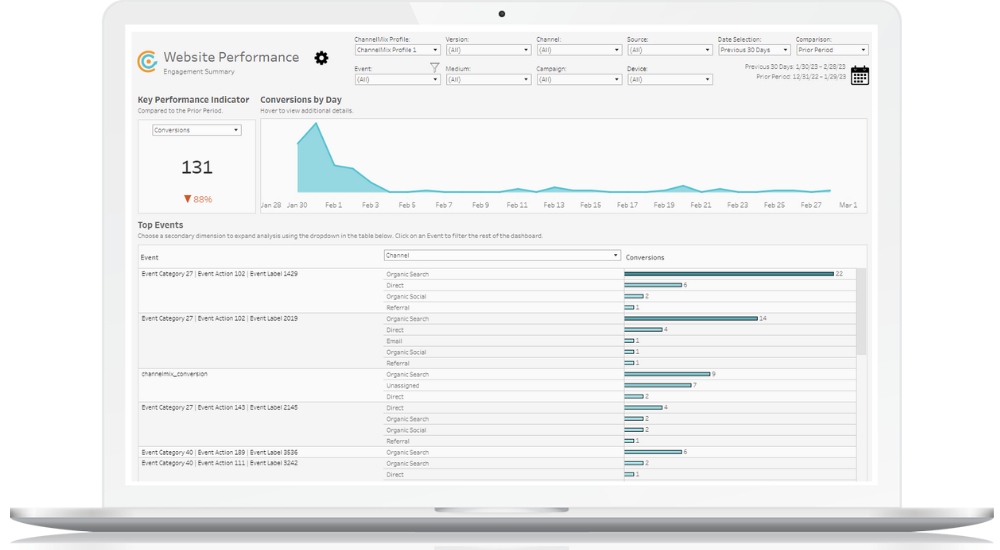 Version 2023.1
Overview
The purpose of the Website Performance Dashboard is to quickly summarize performance across all of your web properties.
This report includes four separate dashboards:
Acquisition Summary
A historical summary that provides a high-level overview of your website's traffic volume and acquisition. Use this tab to understand how more about your website.
Is my overall website traffic trending upward?

In what ways are people arriving to my website? What channel, source, medium, campaign, etc.?

Is that traffic actively interacting on my website?
Website Conversion Detail
This dashboard digs deeper into your Website Conversion scorecard, which represents the actions on your website that you have deemed important to your business. Understand performance by getting more granular and seeing how your individual website conversions are performing.
Which website conversion are we generating the most?

Which media conversion is returning the most value?
Engagement Summary
A summary of which events users are completing on your website. Use the metric dropdown to view event performance based on different criteria.
Which event occurs most frequently on my website?

Which event contributes the most conversions? The most value?
Are my top events trending upward?
Pagepath Summary
A summary of all the pages on your website. Use this tab to identify pages to promote in marketing, or pages that made need some revisions.
Which pages are users viewing the most often?

Which pages are users engaging with once they arrive at your website?

Which pages have the most time spent? The lowest time?
Data
Supported Data Sources
The standard configuration for this dashboard includes the following data sources:
Google Analytics
Google Analytics 4
Dashboard Datasets
This dashboard is built on the following datasets:
Supported BI Tools
The Web Performance Dashboard is available in Tableau and Power BI.
Previous Version Support