ChannelMix Platform | Dataset Refresh
---
<! ---- 4. Embedded iframes with title and author --> <! -- ChannelMix Monitor Blue Paper --> <! -- GA4 User Guide --> <! -- Keys User Guide --> <! -- Implementation Guide --> <! --Pacing Summary User Guide -->
What is data refresh and when is it needed?
Use Data Refresh to update your data by source when a source-level change needs to be reflected inside the ChannelMix platform. For example, if data within the source either changed or is missing then a data refresh might be needed.

If the structure of the data set is modified, such as a new field or the alternation of a field name, the setup will need to be altered so we can consume the new structure correctly. In this case, please submit a ticket with a sample file noting the changes.
How to Refresh Data
Step 1 Select the dataset
Navigate to your Library page, and select the client and dataset you would like to refresh.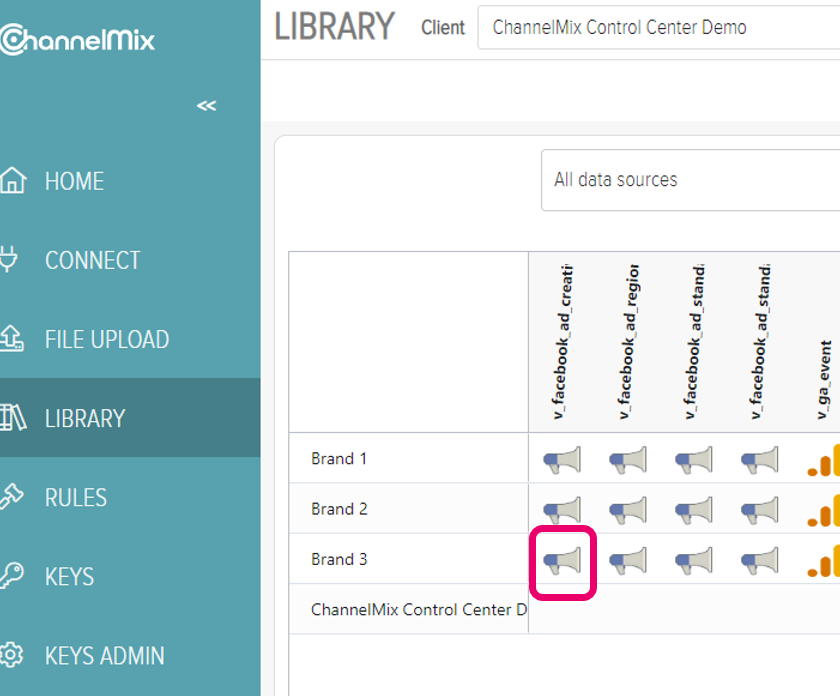 Step 2 Select the button under actions.
A flyout will appear on the right. Select the teal refresh button under the actions column.

Step 3 Select the dates
Select the dates for which you would like to refresh the data.
Note that there are refresh limitations. You can find them listed as Days Remaining on the data refresh menu (see screenshot) or in the ChannelMix Connections section of the Help Center. Limitations are at the client level and are monthly limits across all accounts. If you need more days than allowed, please submit a ticket.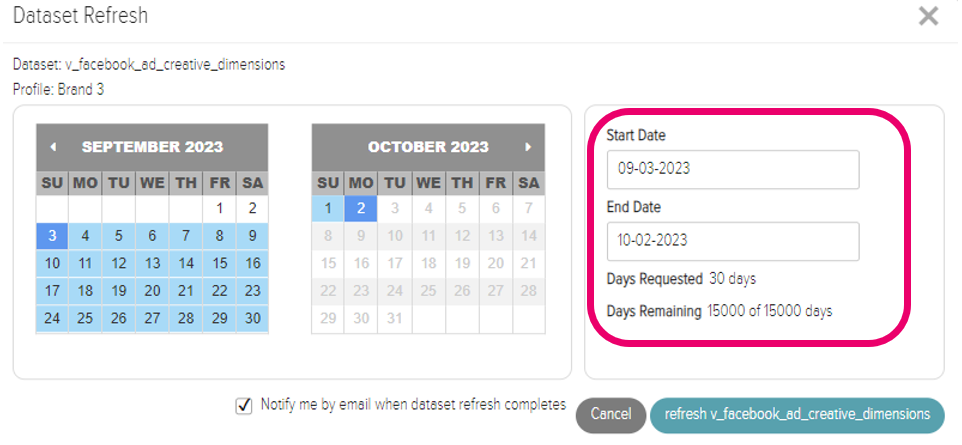 Step 4 Select the refresh button
Once you select the refresh button, you are done. If you leave the notification request box checked, you will receive an email once your data is ready.
---
What happens next?
Most refreshes are complete in less than hour, though you could see results in minutes. It also could take up to a day or two in rare cases.
There are three ways you can tell when a data refresh is complete:
You will receive a confirmation email from the ChannelMix Control Center if you elected to receive the message when you initiated the refresh.



A note will appear in the Comments section of that dataset's Library Flyout, confirming the refresh is finished.


Load the dataset into Tableau or your visualization tool. If the refresh has been completed, you should now see your data and the insert_date should reflect the date of your refresh request.
In the unlikely event that a refresh fails, a member of our team will contact you via ticket or email.
You can also watch this video for more information.