Overview

 
The purpose of the web analytics dashboard is to quickly summarize performance (traffic, engagement/behavior, and conversion) on one or more web properties.
This report uses the following data source:
This report includes four separate tabs:
Executive Summary: 

The executive summary provides a high-level overview of how key metrics (sessions, pageviews, pages per session, etc.) are trending over time, as well as how each channel is contributing to the individual metrics

Traffic Summary: 

The traffic summary provides a more detailed view on web traffic volume and acquisition; providing the ability to view key metrics (and filter) by channel, source, medium, campaign, device, or landing page

Engagement Summary: 

The engagement summary provides detail on what users are engaging with once they visit the site, including pages viewed and events completed

Conversion Summary: 

The conversion summary provides a breakdown of Goal completions. By default, Goal Completions 1-10 are displayed on this report, but it can be customized to include more/fewer goals depending on your specific configuration in Google Analytics
This report is built on three datasets:
v_ga_session: 

This dataset includes session-level data

v_ga_page: 

This dataset includes page-level data

v_ga_event: 

This dataset includes a breakdown of events completed by event category, event action, and event label
Configuration

 
Clicking the gear icon next to the will navigate you to the configuration pane, a separate dashboard within the Tableau workbook that can be used to adjust formatting within the report. The configuration pane also includes definitions relevant to the report and a link to login to the ChannelMix Control Center.
Within this pane you can adjust the following:
Metric Comparison by: This dropdown allows you to adjust the trendline to aggregate metrics by day, week, quarter, or month.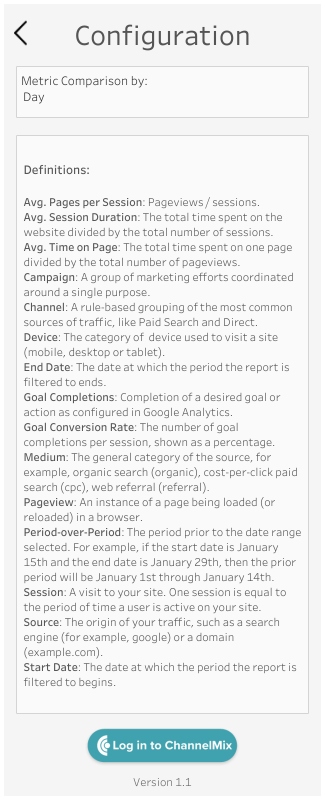 Formatting
Worksheets Rendering Incorrectly
If you are viewing the workbook in Tableau Desktop on a Windows PC you may see titles that are cut off, have ellipses in them (...), or worksheets that aren't displaying fully (you should not have this problem if you are using a MAC):

To fix this, adjust your scale and layout settings (on your PC, not in Tableau) so that every display is scaled to 100% by going to Start → Settings → System → Display → Scale and Layout: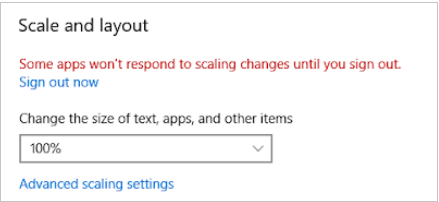 Once these settings have been adjusted, close and re-open Tableau to view the workbook rendered properly.
Changing Report Title + Logo
The report title and logo can be customized to match a client's branding. To edit the title right-click the text and select "Edit text…":

Edit the text within the pane that appears and click "OK." To edit the image, right-click the ChannelMix logo and click "Choose Image…":

Select the replacement image file and click "OK." Note that depending on the size of your image you may need to adjust the Fit Image, Center Image, and Fix Width settings to ensure a proper fit within the placeholder.