Overview

 
The purpose of the Paid Social Dashboard is to summarize ad engagement and conversion behavior driven by paid social platforms. This report aggregates data from the following paid social platforms: Facebook, Instagram, LinkedIn, Twitter and Snapchat. If you do not have datasets for one or more of these social sources, or a social source has not been added to a OneView, data from that source will not populate in the dashboard.
This report includes the following data sources:
Facebook Ads

Twitter Ads

Instagram Ads

LinkedIn Ads

SnapChat Ads

Pinterest Ads (coming soon)
This report includes two separate tabs:
Paid Social Dashboard:

The Paid Social Dashboard presents performance (spend, impressions, engagements, video views, shares, etc.) and conversion (conversions, conversion rate) metrics from paid social platforms. The dashboard enables users to compare and filter by platform, campaign, ad group and ChannelMix profile.

Paid Social Dashboard (No Conversions): The Paid Social Dashboard (No Conversions) tab is identical to the first tab but does not include conversion or conversion rate. This tab exists if there is no conversion tracking enabled at the source level and/or do not have a conversion 

OneView

for paid social sources.
This report is built on one dataset:
Configuration

 
 Clicking the gear icon next to the will navigate you to the configuration pane, a separate dashboard within the Tableau workbook that can be used to adjust formatting within the report. The configuration pane also includes definitions relevant to the report and a link to login to the ChannelMix Control Center.
Within this pane you can adjust the following:
Metric Comparison by: This dropdown allows you to adjust the trendline to aggregate metrics by day, week, quarter, or month.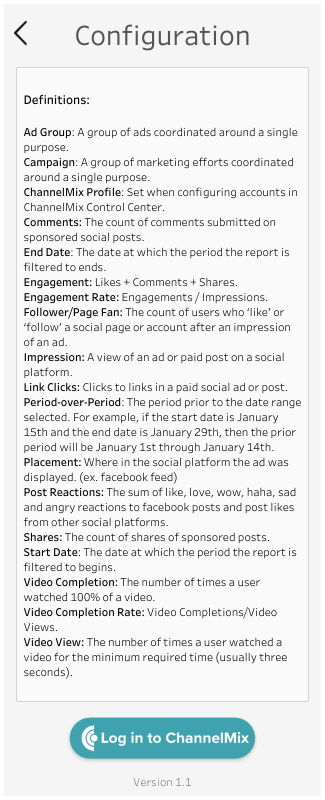 Formatting 
Worksheets Rendering Incorrectly
If you are viewing the workbook in Tableau Desktop on a Windows PC you may see titles that are cut off, have ellipses in them (...), or worksheets that aren't displaying fully (you should not have this problem if you are using a MAC):

To fix this, adjust your scale and layout settings (on your PC, not in Tableau) so that every display is scaled to 100% by going to Start → Settings → System → Display → Scale and Layout: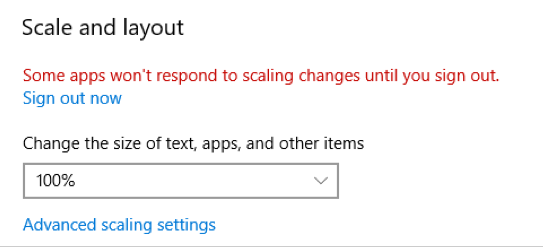 Once these settings have been adjusted, close and re-open Tableau to view the workbook rendered properly.
Changing Report Title + Logo
The report title and logo can be customized to match a client's branding. To edit the title right-click the text and select "Edit text…":

Edit the text within the pane that appears and click "OK." To edit the image, right-click the ChannelMix logo and click "Choose Image…":

 Select the replacement image file and click "OK." Note that depending on the size of your image you may need to adjust the Fit Image, Center Image, and Fix Width settings to ensure a proper fit within the placeholder.