Organic Search Performance - Overview
---
<! ---- 4. Embedded iframes with title and author --> <! -- ChannelMix Monitor Blue Paper --> <! -- GA4 User Guide --> <! -- Keys User Guide --> <! -- Implementation Guide -->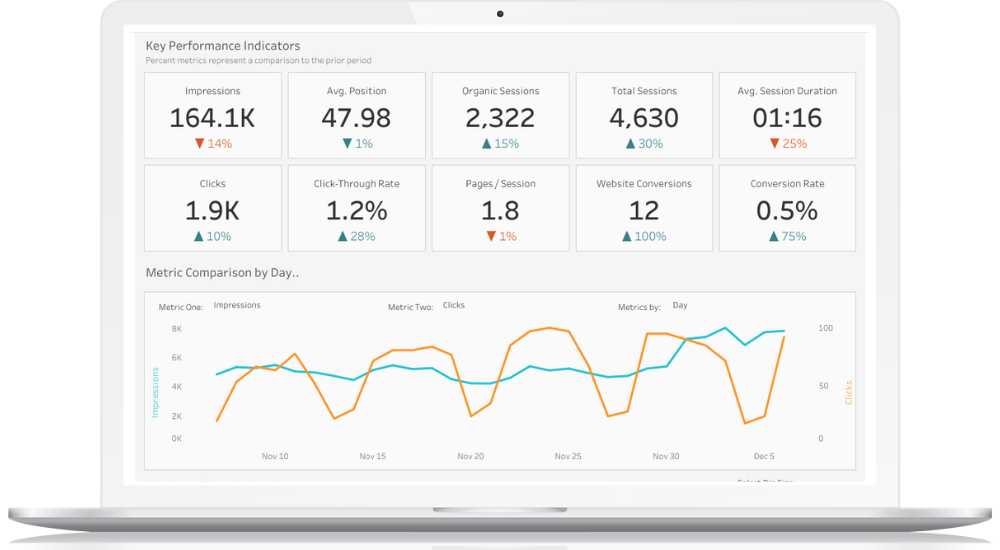 Overview
The Organic Search Performance dashboard is designed to bring together SEO tools in a way to help marketers understand how content on their websites are driving interactions on search engines.
Intended Audience
Marketers use SEO to help drive traffic to a website, but often lose visibility once users leave the search engine. This data is available but silo'd. The Organic Search template dashboard was developed to tie activity from SEO to website to better understand how SEO is performing.
Some business questions and purposes to solve for are:
Understand what keywords are my customers using to navigate to my website.

Of those keywords, which ones are converting on my website?

What opportunities do I have to build more content on my website? e.g. what keywords are pertinent to my business but are currently ranked low for my website?

Is my keyword rank improving overtime?

How often does my website appear on the first page (top half of the first page, second page, etc.) for keyword searches?
Dashboards
Executive Summary
By selecting a date range, you can compare key metrics over a prior period for your organic search results. You can also view the number of queries by average position, key performance metrics by device and filter by your ChannelMix Profile.
Query Summary
Drill down deeper into query performance by being able to search for a specific query. You can sort my key metrics and see your Google Analytics data alongside your Google Search Console data.
Supported BI Tools
This is available in Tableau and PowerBI.
Data
This report includes the following data sources:
Organic Search:
Website:
This report is built on the following datasets: