---
<! ---- 4. Embedded iframes with title and author --> <! -- ChannelMix Monitor Blue Paper --> <! -- GA4 User Guide --> <! -- Keys User Guide --> <! -- Implementation Guide -->
Welcome to ChannelMix!
We're excited to have you on board!
In order to hit the ground running in getting your ChannelMix dashboards setup, we'll need to set up a few calls to meet the team, get an understanding of your analytics needs and to finally connect data.
There are two steps included in this unit: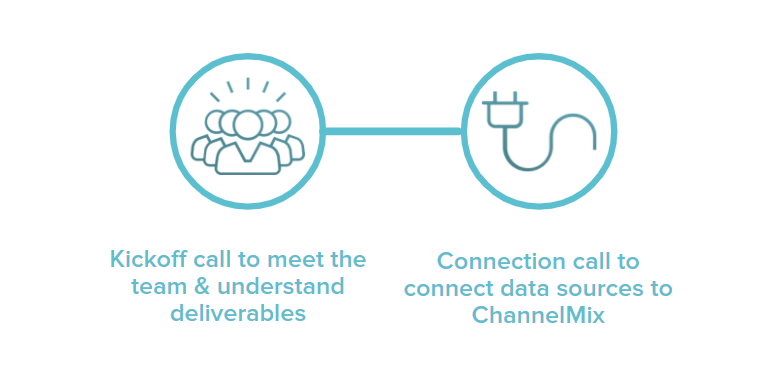 Timeline
This unit typically takes 3-7 days complete, depending on schedules.
Kickoff Call
This will be a 30 minute meeting with your ChannelMix account team. You'll get to be able to put a face with a name for the following dedicated roles:
Client Success Manager Your day-to-day contact, and responsible for making sure you and your team are trained on ChannelMix products and are using them in your day-to-day activities to optimize your marketing efforts.
Implementation Engineer Responsible for implementing the products needed for the vision. This person is part of our project management team and acts as a liaison between you and the ChannelMix teams working behind the scenes for product setup.
Agenda items in this call typically include:
Review Strategic Initiatives
Review Roadmaps
Housekeeping Items
Included training units and what to expect for ChannelMix Setup & Dashboard Training
Typical action items for you or your team include:
Gather credentials for needed data sources
Provide list of users to the platform
Set up your account to access ChannelMix Control Center and ChannelMix Reporting (A welcome email will be sent by the ChannelMix team)
Review the ChannelMix Connections section of ChannelMix Help Center to read the articles and understand the steps needed to connect your data sources
Be prepared to share your screen in the next call (Connection Call) in order to connect within ChannelMix Control Center

Connection Call
We'll use this time to walk through a demo of ChannelMix Control Center and have you share your screen to connect the data sources needed. This call typically lasts an hour, but additional calls can be scheduled if warranted. Included in this call will be the Implementation Manager and the Client Success Manager.
Agenda items include
ChannelMix Control Center Demo
Connect data sources
If you do not see the data source listed in the Data Sources section of the Help Center, we will use this time to discuss other ETL options for non-API supported sources. This will include:
Demo of ChannelMix Help Center